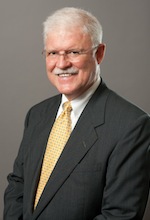 Sidney A. Luscutoff
Sid Luscutoff is an experienced trial lawyer with over thirty years of state and federal court litigation experience. He devotes the greatest part of his time to resolving real estate and business disputes; including dealing with these issues in bankruptcy estates, probate estates, trust estates and conservatorships. He has also handled hearings before the America's Cup International Jury. During the recent 34th America's Cup in San Francisco Sid Luscutoff successfully represented Sailor X, the only person to be fully exonerated of rules violations following a trial by that International Jury.
Before becoming an attorney, Mr. Luscutoff was a successful serial entrepreneur. He was principal in real estate development partnerships in San Francisco and Seattle that developed a 95 berth marina and shoreside facilities on Bainbridge Island and that pursued conversion of a large Pacific Heights apartment building to condominiums. During this same time Mr. Luscutoff also co-founded a successful metal recycling and automobile dismantling business based in San Francisco.
Sid Luscutoff combines his litigation and trial skills with this unique (for a lawyer) background as a local business owner and real estate developer. As a result, he is particularly sensitive to the needs of small businesses and property owners.
Sid Luscutoff was admitted to the California bar and to all Federal District Courts in California in 1981. In 1985 he was admitted to the bar of the United States Supreme Court. He has argued cases before the California Court of Appeal and U.S. Court of Appeals for the 9th Circuit.
Mr. Luscutoff received his BA, with High Honors, from the University of California at Davis in 1971; and was awarded his J.D. degree by Hastings College of the Law, University of California. He received clinical training as a Judicial Extern to the Hon. Wiley W. Manuel, Associate Justice of the California Supreme Court. During law school he was the Publications Editor of COMM/ENT, the Hastings Journal of Communication and Entertainment Law; and he also was the Managing Editor and, later, Editor-in-Chief of The Hastings Law News.
Prior to law school, Sid Luscutoff spent more than two years as a Collective Bargaining and State Legislative Representative of the Western Conference of Teamsters. Before that he conducted research at UC Davis on the subject of decision-making; and his research results were published in the peer-reviewed Journal of Counseling Psychology.
In service to the legal community, Sid Luscutoff has moderated education programs on business law topics at several California State Bar Section Education Institutes, including: Unfair Business Practice Litigation (2000, 2001 & 2002) and Litigating as a Private Attorney General (1998). From 1989-1999 he served as a Judge Pro Tem of the San Francisco Municipal Court; and from 1982-1996 was a Member of the Panel of Arbitrators, Commercial Law, of the American Arbitration Association. He was on the Executive Committee of the St. Thomas More Society of SF from 1987-1996 and, in 1995, was President of the Society.
Mr. Luscutoff has also contributed his time and experience to Bay Area civic organizations. He is a past Trustee of the Pacific Vascular Research Foundation, 1997 – 2002. From 1997 to 2003 he was a member of the Board of Directors of the Juvenile Diabetes Research Foundation of the Greater Bay Area. He served as a member of the San Francisco-Shanghai Sister City Committee from 1987-1989.